Not only is writing my outlet, but reading is another way I can turn off my mind and be transported into a completely different world. I read every night before I go to sleep as a way to wind down and stop thinking about the lists of things I need to do the following day. It helps me relax. This week I thought I would share some of the books I've read over the past few months and rated 5 stars. I really enjoyed reading them and believe you'll enjoy them too.
Cradle of the Gods (The Soulstone Prophecy, #1)
I really enjoyed reading Cradle of the Gods, and following Ghile's story as he discovered who he is and who he is to become.
With a Lord of the Ring's feel, it's set in a world where dwarves rule over humans, killing any who show signs of being a vessel for a god who was banished years before. Ghile is a human who live's in the Cradle of the Gods and has been told he would be no more than a herder for the rest of his life. But when a sorcerer and his apprentice arrive, Ghile stumbles upon something that sends his life down a new path.
This adventure is full of fantasy and magic, and I loved the characters which were all well fleshed out as well as the well thought out world they lived in.
I would recommend this book to anyone who enjoys fantasy, and look forward to watching Ghile grow as the series continues.
You can purchase Cradle of the Gods on Amazon HERE!
Broken Soul (The Scholar's Legacy Book 1)
Micasa is a young girl who has been a slave for as long as she can remember, with no hope of ever being free. That is until one night she chances upon a conversation with another slave, Hawke, who manages to free them both with her help. The two embark on a journey as Hawke reveals his soul has been shattered into pieces and in order to be whole again he needs to find every last piece.
I really enjoyed the relationship that grew between Micasa and Hawke. At first it was one of necessity, then as the journey continued it became one of mutual respect and friendship. There is also a colourful cast of other characters they meet along the way which only added to my enjoyment of this story. Broken Soul was a great story and I highly recommend you read it.
You can purchase Broken Soul on Amazon HERE!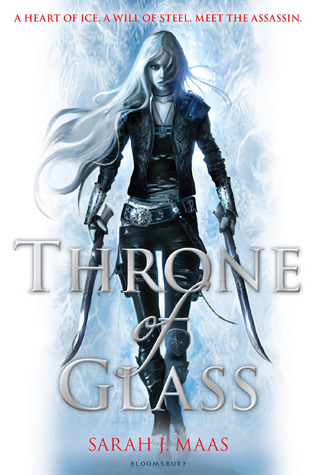 Throne of Glass (Throne of Glass #1)
Celaena Sardothien is a trained assassin serving a life sentence in the salt mines of Endovier. When Captain Westfall arrives to free her from her imprisonment, she soon realises she's not really free, not yet. First she must represent prince Dorian in a tournament, a fight to the death against thieves and assassins.
I am thoroughly enjoying this entire series and am already up to book #4, Queen of Shadows, which I didn't want to review because it will give away too many of the twists and turns in this amazing fantasy series. Needless to say I'm hooked and can't wait to finish all five books!
You can purchase Throne of Glass on Amazon HERE!
Pawns (Wielders of Arantha #1)
I enjoyed this mash-up of science fiction and fantasy.
Patrick Hodges, has woven a complex but easy to follow tale that switches from various POV's so the reader can uncover the pieces of this intriguing puzzle as the story unravels.
With so much happening it's hard to explain the story in its entirety. Maeve and Davin have found themselves on a new planet after escaping an invasion of an alien race that destroyed Earth. They're on a mission to find a way to defeat the aliens who invaded their home, but have no idea what they've gotten themselves into when they find themselves on this new planet. Along with Maeve and Davin, we're introduced to a tribe consisting only of women, and a pair of siblings who are a force to be reckoned with.
I enjoyed the way the stories of these well written characters at times collided, while other times sewed seeds and hints of what is to come in the rest of the series. I look forward to finding out what happens next in book two of The Wielders of Arantha.
You can purchase Pawns on Amazon HERE!
Prophecy of Darkness (Legends of the Tri-Gard Vol 1)
As a fan of their previous works, when I heard Michelle Bryan and Michelle Lynn had teamed up to write a fantasy series I couldn't wait to get my hands on it. It didn't disappoint!
In a kingdom without magic, Prince Trystan's people are devastated by famine and extreme weather and he fears that the whispers of a dark force brewing could be the beginning of the end of his kingdom. That is, if he can't revive magic.
Although he's unsure if magic is even real, he knows finding it is his only chance to save his people.
Prophecy of Darkness introduces us to the world of Dreach-Sciene in great detail while revealing the history of magic, how it was lost, and what must be done to recover it.
With an array of interesting characters, light humour, strong females, seamless storytelling and a dash of magic, I highly recommend you pick up the first book in the Legends of the Tri-Guard series.
You can purchase Prophecy of Darkness on Amazon HERE!
As you can see I've read plenty of fantasy in the past few months and look forward to changing up my reading tastes in the months to come and sharing more of my favourites with you. Have you read any of the books I reviewed? Which one are you most excited to read?